River Mall on Rokko Island.
The ISP (internet service provider) who is hosting the family domain has their office on Rokko Island. They have created a home page for the River Mall merchants. If you would like to check it out, the URL is http://www.rivermall.or.jp/

Several times during the non-winter months, there will be concerts on the river in River Mall. They are all free, of course, and quite good, often featuring well-known entertainers and groups. Past events have included Taiko drummers, Okinawan music, opera and rock. The setting is marvelous, with the performances on the boardwalk on one side of the river, and the audience sitting on the steps on the other side. From our perch on the 36th floor, we have a nice view of the concerts (see lower right photo), and no problem hearing them.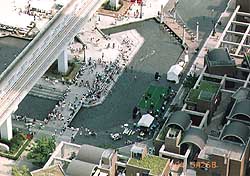 No, it isn't a singing contest. I'm trying to take their picture, but they keep looking away, so I ask them to look at the camera and say 'hello'. Oh, well, at least we can see their faces.
Where are they going? On a bug hunting expedition to a nearby park, of course. Calvin is carrying his bug cage and a long net.
It must be summer 'cause the people in the water appear to be Japanese, and the Japanese NEVER play in the river out of season, no matter how hot the spring or autumn day may be.