Happy Birthday, Michelle! You're one year old!
The one candle on her birthday cake seemed a bit lonely, so I put another candle on the pizza. Now the other kids want pizza with candles on their birthdays.
The pizza came about because this new bread machine of ours also makes pizza dough. That plus some cheese from Jerry's Deli and a salami or two from the Price Club, both here on the island, has made pizza a common evening meal in our house. But birthday pizzas? What would Uncle Shakey and Aunt Domino say?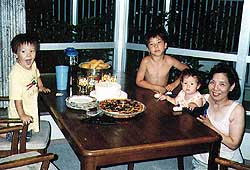 Chieko showed up one morning with a pocket radio, and Michelle was fascinated.
She also likes daddy's headphones. Whenever I listen to music, she comes over and insists on listening too. I'm gonna hafta get her a set of headphones in her size.

For three days in October, Osaka was the site of -- as one of the local newspapers put it -- one of the top three beer festivals in the world. Hmmm. Actually, it was pretty good, with a variety of good beers from around the world, plus a selection of Japan's best craft beers. Not a Budweiser in sight.
Yep, the beer market in Japan may be dominated by the big four (Asahi, Kirin, Suntory and Sapporo), but there are quite a few better beers available now to feed the fast growing frenzy for micro brews. It's a very recent phenomena, too. Just a few years ago, a brewery had to produce a few million liters a day in order to qualify for commercial sales. Guess which "big four" brewers were the only ones to qualify?
Anyway, this Osaka Beer Summit, as it was called, provided not only great tasting beer, but also international food and entertainment, including a mariachi band from Mexico, dancers from the Philippines, a kalimba group, and a gamelan-like instrument group and dancers from Thailand. These photos show us sitting on the ground enjoying some of that entertainment. (Photos courtesy of Don Todt, who claims that this was the best party of the year.)